Need a laugh? 
Check out some of these cartoons on a variety of ethical issues in science.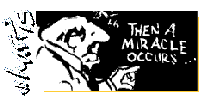 Stem Cell Research

Evolution

Human cloning

Cloning the cat (these are funny)

cat 1 (Deering)

cat 3 (Omman)

cat 4 (Koterea)

Genetics and designing our children

Playing God / slippery slope

God 1 (Carlson)

(Ramirez)

God 3 (Markstein)

Healthcare

Miscellaneous Issues

As one might expect, cartoonists have plenty to say on many scientific issues. Human cloning is a topic about which they will often draw. The cartoons on stem cell research are quite serious on both sides of this issue and often say more than an editorial can possibly articulate. Enjoy.
Back to Bioethics
Back to the links